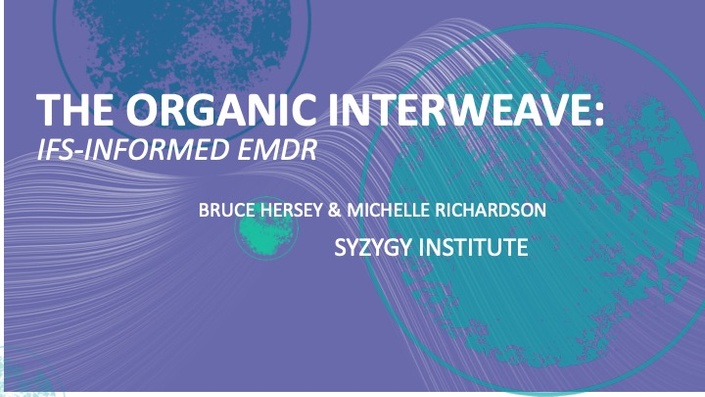 The Organic Interweave: IFS-Informed EMDR
A two-hour condensed overview of Syzygy Institute's systematic IFS/EMDR interweave.
2.0 EMDRIA continuing education hours (EC # 22005-DL09) NY Social Workers: Syzygy Institute, LLC is recognized by the New York State Education Department's State Board for Social Work as an approved provider of continuing education for licensed social workers #SW-0724.
This workshop is designed to give mental health professionals who have taken EMDR basic training a condensed overview of Bruce Hersey's systematic interweave of IFS and EMDR as taught by Syzygy Institute in their three-step program consisting of 3 two-day experiential workshops. Reframing the AIP network and targeted network as conscious relational entities engaged in a dynamic energetic healing relationship; Functional Dual Attention, and using IFS concepts as organizing principles in EMDR Phases One and Two, allows for the organic development of a treatment plan that identifies the most appropriate current target. Target information is gathered from specified internal sources and Discovery, a method of working with protectors (defenses) using bilateral stimulation, is detailed when the lack of Functional Dual Attention precludes a complete Assessment Phase and desensitization. A possible mechanism of action of EMDR which accesses, enhances, and supports Functional Dual Attention is suggested.
Presenters: Bruce Hersey & Michelle Richardson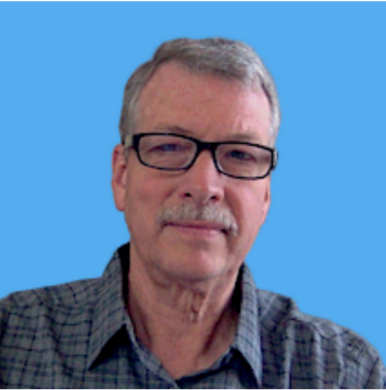 Bruce Hersey, LCSW, is a Co-Founder of Syzygy Institute and the founder of emdrifs.com, a website for self-learning through prerecorded CE courses on IFS, EMDR, & Coherence Therapy integration.

Bruce is an experienced presenter, and workshop leader, known for his clarity, humor, warmth and humility. He has led and co-led numerous introductory IFS and IFS-Informed EMDR workshops, in-person and online.
An EMDRIA Approved Consultant and Level 3-trained Approved IFS Clinical Consultant, Bruce presented twice at the IFS Annual Conference, AASECT, and EMDR UK.
Bruce has also published short animated educational introduction videos on IFS (Finding Your Parts) and EMDR (EMDR at a Glance) on YouTube.
You can listen to Bruce taking about IFS-Informed EMDR on The Therapy Explained Podcast with James Lloyd, and The One Inside Podcast with Tammy Sollenberger.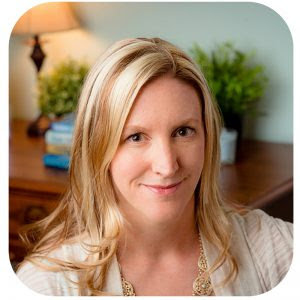 Michelle Richardson, LCSW, is the Co-Founder of Syzygy Institute as well as the owner of Mindful Soul Center for Wellbeing, a thriving group practice located in southern New Jersey. There, she specializes in the treatment of complex trauma and dissociation in addition to providing clinical supervision and consultation to clinicians in varied stages of their professional journey.
As an EMDRIA Approved Consultant and IFS Level 1 & 2 Therapist, Michelle helps clinicians wade through the often murky and complex waters of psychotherapy towards clarity and confidence in their work. At Syzygy Institute, it is Michelle's mission to introduce therapists to the place where IFS and EMDR meet to generate lasting healing for their clients. Michelle has additionally been a featured guest on both the Awaken Your Wise Woman podcast and The Woman Worriers Podcast, where she speaks about Internal Family Systems therapy, anxiety, and the inner critic.
Brought to you by Syzygy Institute
Your Instructor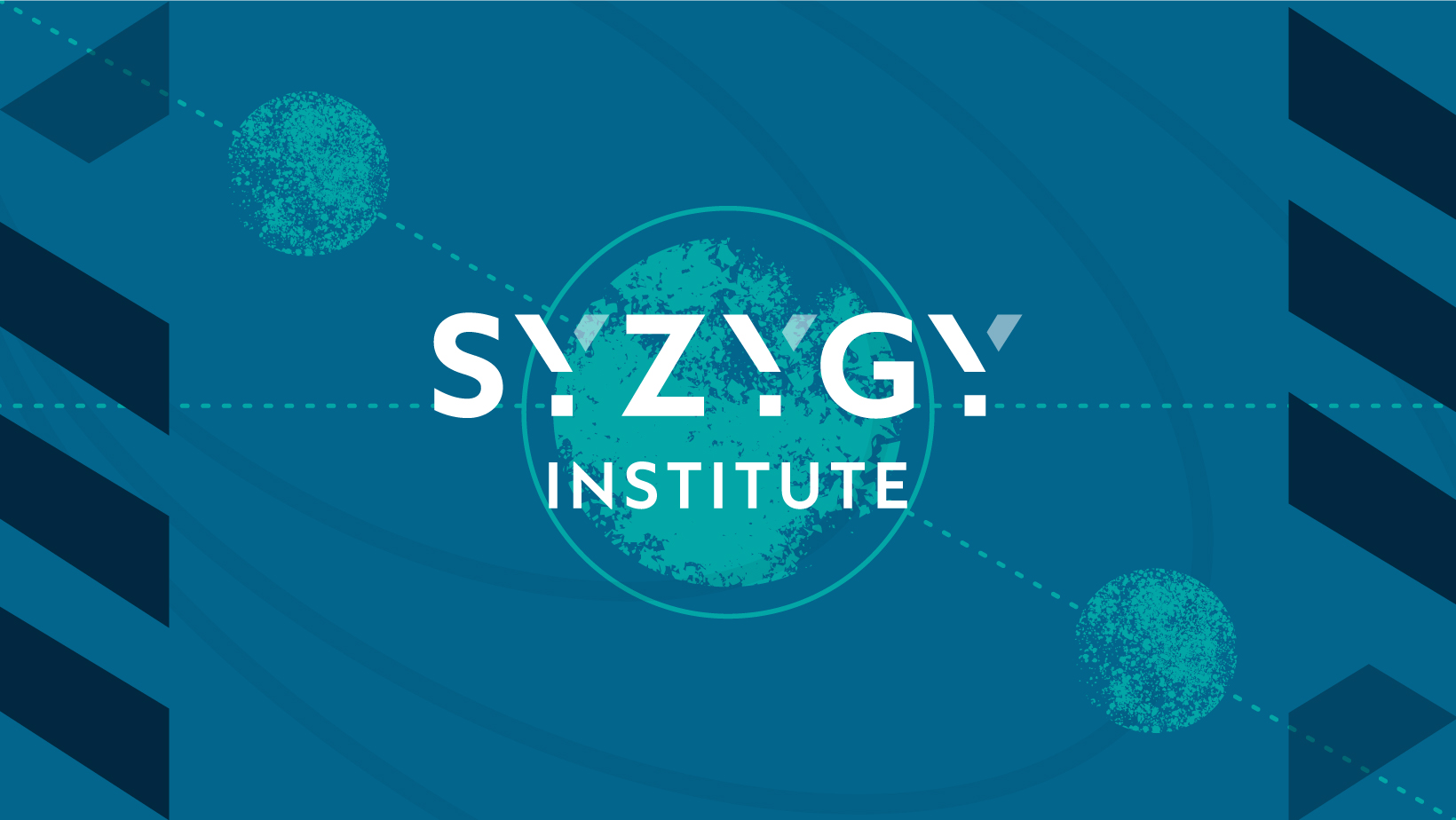 Syzygy Institute, a partnership between Bruce Hersey and Michelle Richardson, is the culmination of Bruce's 15 years developing and teaching a systematic integration of the models: IFS-Informed EMDR. It is the mission of Syzygy to provide high quality advanced integrative training in these converging healing models within a connected community atmosphere, and establish a certification program based upon recognized training in both models and progression through advanced integration courses.

EMDR therapists have become familiar with the helpful notion of ego states, which frequently inhabit our workspace when attempting to process traumas with our (quite commonly) complex clients. Many have identified Internal Family Systems (IFS) as a user-friendly comprehensive ego state model, and are eager to learn an integration of EMDR and IFS.

At Syzygy Institute, we require that anyone being trained to integrate the two models are first fully trained in EMDR, and secondly have a fundamental experiential understanding of IFS. Nothing is better for that purpose than Level One Training by the IFS-Institute. We recognize that IFS Level One training is costly, time-consuming, and currently there are substantial waiting lists and lottery systems to get in.
Those EMDR therapists who have started or completed an IFS Level One do not need to take Intro to IFS for EMDR Therapists to qualify for our main course; the IFS-Informed EMDR 2-day workshop.
To fill the gap for those EMDR therapists unable to obtain IFS Level One, we have developed Intro to IFS for EMDR Therapists workshop as a basic requirement to fulfill before attending the IFS-Informed EMDR 2-day workshop.
We then offer an advanced IFS-Informed EMDR course: Discovery & Beyond 2-day IFS-Informed EMDR Advanced Experiential.
Advancing through these workshops with additional approved consultation, in addition to specified requirements in the separate models, will be the path to an IFS-Informed EMDR certification.

After completing this workshop, participants will be able to:

Explain the relationship between Functional Dual Attention and Self-Presence.
Describe the concept of energy as it applies to Protective Parts and how this can be measured and processed within EMDR.
Describe the concept of energy as it applies to qualities of Self and how these can be measured and installed as a resource within EMDR.
Identify a third type of processing protectors with bilateral stimulation named after a stage of Coherence Therapy.
Describe what is meant by a Discovery Contract.
Describe how hippocampal activation may support and enhance Functional Dual Attention.
Identify which three of the IFS 6F's correspond to eliciting Assessment Phase target elements.
Describe the essential IFS feature that is verified in the Preparation Phase in order to proceed to Phase Three.
Frequently Asked Questions
When does the course start and finish?
The course starts as soon as you register and you have six months to complete and review it as well! It is a completely self-paced online course - you decide when you start and when you finish.
How long do I have access to the course?
Six months. After enrolling, you have unlimited access to this course for 180 days - across any and all devices you own.
How about continuing education?
Only EMDRIA CE credit is offered for this course.